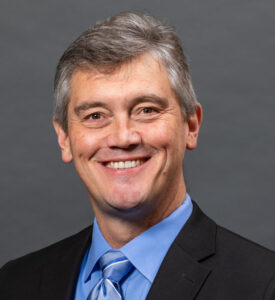 Dr. Shawn Griffin is the first physician to serve as President & CEO for URAC – an independent, nonprofit accreditation organization based in Washington, D.C. URAC's mission is to advance health care quality through leadership, accreditation, measurement and innovation.
Before URAC
He previously served as Vice President for Clinical Performance Improvement and Applied Analytics at Premier, Inc. in Charlotte, NC and served as a consultant for both physician-hospital quality improvement and analytics. Prior to that, Dr. Griffin served as the Chief Quality and Informatics Officer for The Memorial Hermann Physician Network in Houston, Texas. In that position, he directed the quality measurement and data collection programs for one of the largest and most successful ACO's in the country with over 2,500 physicians enrolled from approximately 850 primarily independent practices. He was a leader in the development of the Memorial Hermann ACO through its evolution from clinical integration. Dr. Griffin spent the early part of his career as a family medicine physician in rural Iowa before holding Chief Medical Information Officer roles at Heartland Health in St. Joseph, Missouri and Baylor College of Medicine in Houston, Texas.
Subject Matter Expertise
Dr. Griffin is recognized as a subject matter expert on population health, quality improvement, network development, clinical integration, ACO's, incentive design, physician leadership development, and physician alignment. He has been a featured presenter for the National Quality Forum, HIMSS, the American Medical Group Association, AMDIS, CHIME, and the American Medical Association. He was named by KLAS as a "population health all-star" and was a key developer of KLAS Population Health Framework for evaluating software and program capabilities and served on the KLAS Advisory Board.
Education and Training
He is a graduate of Carver College of Medicine at the University of Iowa with specialty training in rural family medicine.
Outside the Office
Dr. Griffin and his wife Katherine are the proud parents of five sons. When he is out of the office, he enjoys golf, theater and travel.